Hi guys,
With the Rio Olympics coming to a close, there were so many lessons and take-aways that could be learnt from this meet. Apart from the evident camaraderie, sportsmanship, determination, perseverance and goal setting elements required to compete at the games. One of my 'aha' moments was in athletics. Viewing the journey of life as a Marathon and not a sprint. While i love watching the 100 and 200m races (congrats to Usain Bolt, once again) we need view life in the long haul. Be patient, keep working and the results will follow. Here what I've been up to.
Here is a video of a Collection of my Target Kicking videos from all around the world
AMA Corporate Workshops. Mrs Sarah and i ran a Corporate Session With over 105 Employees at PGH Building. WE covered strategies to overcome mental barriers, stretching, martial arts techniques, target practice and board breaking. Great to see people of all ages get involved and have fun!
Had a Fantastic time presenting, teaching and attending seminars at the Martial Arts International Networking (MAIN) event over this weekend. Love sharing knowledge, learning and improving in order to continually set a professional platform within the industry. Thank you to all presenters and attendees for making it a fruitful event!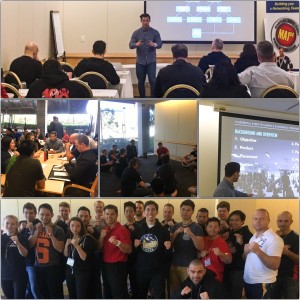 Instructor Training and Staff Development Workshops. A Huge thanks to Craig and his wonderful team of staff at Crow Martial Arts. It was a pleasure to run a Business Consulting session with the team at Crow. We covered the fundamental and frameworks to develop a thriving dojo as well as discussed some innovative ideas for the future of their academy  – I love seeing the Martial Arts Industry grow!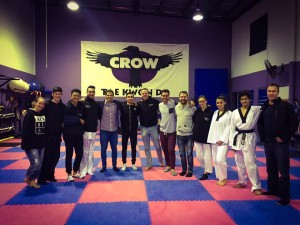 In recent times one of my personal goals has been to maintain and improve my flexibility. Consistent stretching has many benefits on our quality of life such as; the ability to move, less risk of injury, more energy and stress relief. I would highly recommend including a stretching regimen to your workout schedule.
Until next time
Hakan